How it started
Fashion has always fascinated me. As a child, I dreamed that I would have five fashion stores and that I would give style advice one day a week at each store. I fought with my parents to be able to pursue a career in fashion, but I only half succeeded. That's what you get when your parents have their own business.
I studied for a career in the garment industry. That is where you actually study for a management position within a clothing company. By the time I graduated, I'd had my fill. There was very little creative about that training. And that's how I ended up in my father's company. Then I continued to study to become an optician, because I like to know what I am doing, and then followed courses in marketing, sales management and company policy.
But my creative nature could not be denied and so I also trained as a jeweller-goldsmith, so as to have a side project for a number of years under the name Liojewelry. That creative outlet was desperately needed. And then you have a child and you can manage that, but then a second one follows and then the combination of working full time, being a mum, remodelling a house and keeping a jewellery collection is just a little too much of a good thing.
Women today can really be aware of their value. We can all shine. I believe that.
Doubt
At a time in my life where I really didn't know if this was it and whether I wanted to spend the rest of my life doing this, I ended up with someone who researches your talents. She then asked me why I didn't actually design my own eye wear collection. That creative side also got a little more attention. After a few more years – an idea needs time to mature with me – I was ready.

Of course, the child also had to have a name. And that's not an obvious choice. I wanted a strong name in the first instance, because it is a collection for women and aren't we the strong gender?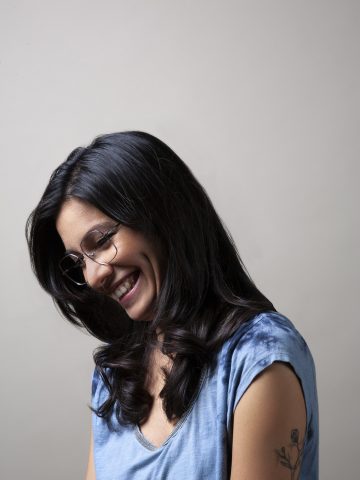 After a lot of wandering, someone asked me why I didn't do something with my children's name and then all the pieces of the puzzle fell together.
Wolfin
My children are called Wolf and Finn. My favourite animal is the wolf and one of the paintings by my aunt, Rita De Muynck, is 'Wiederkehr der wölfin' (The Return of the She-Wolf). It is a strong name that symbolises the power of women that I so much want to highlight with this collection.
Our primal power
We all have to let the she-wolf back into our lives at some point. We need to return to our primal power for some particular reason. Whether to overcome a burden, take a difficult step or process a great sadness.
With Wolfin, first of all I want to deliver a message. Designing the glasses is a very nice side effect, but for me, how the stories of other women turn out is even more important, if possible. Women today can really be aware of their value. With this brand, I hope to give women heart, inspire them and lift them to a higher goal. We can all shine. I believe that.